Aiden English wasted no time addressing the global WWE audience on this week's SmackDown. Doing what he could to create a rift between Lana and Rusev, Aiden bellowed his disdain for illicit acts that Lana has been rumored to take part in. The controversy has gathered the attention of fans and friends of Lana, most notably the unfortunate image that English portreyed of himself as a critic and Lana as a morally corrupt woman.
Speculation online has been rampant with fans claiming English was referring to a rumored sex tape allegedly featuring Lana and The Rock. Lana responded to the rumors and negativity on the Domenick Nati Show yesterday.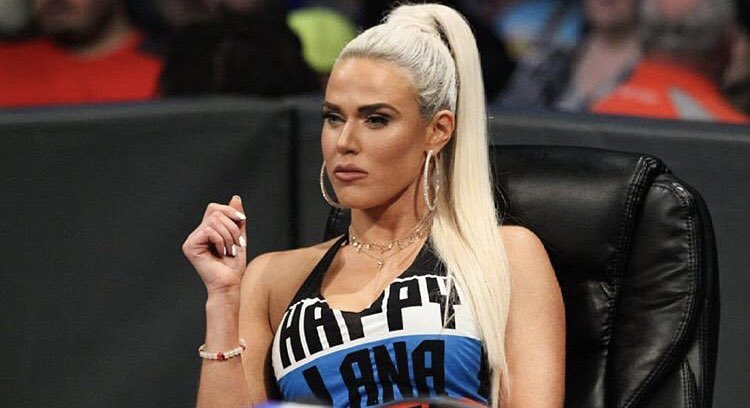 During the interview Lana shared her contempt for the public reaction to the circulating sex tape rumors, telling Dominick,
"A lot of this stuff online and people questioning about The Rock. . . This is 2018, why do we go to that immediately? I know we love a good scandal and we love the gossip. But when all of this comes out, there's going to be no proof. I'm going to be having the last laugh."
She went on to explain,
"This should be a lesson to everyone, it's not okay to be slut-shaming people or to be saying these types of things towards women. With the #MeToo movement and #TimesUp we're all past that. And I hope that people will learn that it's not okay to say or assume certain things."
Insisting the rumors are nothing more than fan fiction melodrama, Lana told Nati,
"People love a good scandal. We love a good freakin' scandal and a good soap opera."
Nati later asked the beleagured WWE star just how much, if any, input the wrestlers have in the development of their storyline and what they can say or do infront of the audience.
Lana quickly replied,
"I would say it's 100 percent up to Vince McMahon. He is our director and we're kind of a canvas. We have to make it our own but Vince McMahon is the director of the TV show. It's our jobs to bring what they want us to do to life. It's a collaboration with creative but at the end of the day, he has final say."
Even with her public response to Aiden's rant on SmackDown, Lana may have to do even more damage control if she hopes to silence the persistent speculation and rumors about her (real or imagined) private affairs with former co-stars and the like.
What do you think, are these all just rumors or is there more to this story than meets the eye? Leave us your thoughts in the comments below!