At UFC 170, Daniel Cormier made a short night out of Pat Cummins. After all, it was a mismatch — a tested and elite fighter facing an untested fighter on his debut.
However, Cummins did show some talents and success. Joe Rogan spoke highly of Cummin's kicks and they did land on Cormier.
Low-Kicks
As a generally principle, it's not a great idea to kick without setting it up. In this case, Cummins executed the most basic setup of a right low-kick: jab, step out, and low kick.
The principle behind this simple combo is that it distracts the opponent and shifts them back. Note how Cormier is occupied by parrying the jab — and does not initiate any counters. Instead, he takes a step back with his rear-leg, which means he's going to back up and drag the lead-leg with him shortly. During this drag, there's a clear timing to attack as it becomes much more difficult to check.
In this sequence, Cummins moves to his left, shifts-left, and delivers an inside-leg kick followed by the jab. Moving to the left slightly increases the time frame needed to turn the leg and check the kick. Once Cormier is off-balanced, it's much easier to land the jab — Cummins could've followed up here but did not.
Jab Exchange and Clinch Attempt
In this sequence, both men jab, but since Cormier held his rear-hand in front of his face in-line to catch the jab (and Cummins didn't), Cormier easily won this jab battle. Cummins ducked a jab after (possibly to feint a takedown, or just to duck the jab) and came with an up-jab and hit Cormier flush.
He then tried to clinch but was quickly disengaged. Note how Cormier pulled down Cummins' head in the end.
Uppercuts in Clinch
Cummins tried to initiate the takedown off the right-hand but Cormier was more than ready to deny this (he specializes in knowing how to setup the takedown off the right-hand).
Once the clinch was engaged, Cormier showed some real nice uppercuts. Note how he's able to control the posture of Cummins multiple times by pulling down with the hand (behind the head) or push down on the back of Cummins' head into an uppercut. It's critical to see how Cormier stayed grounded and in punch posture while breaking Cummins' posture.
Long-Range Jab, Right-Uppercut Into Left-Hook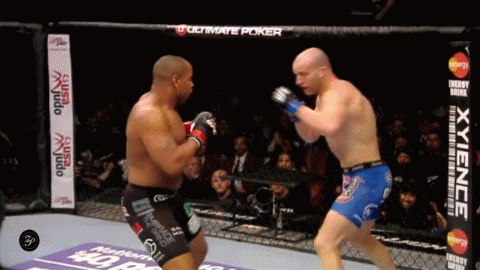 This is a rather standard boxing combination. The theory behind this combination is that the jab setups up the entry, the uppercut upright's the opponent's posture, and the (now loaded) left-hook closes the combination to maximize damage. It's quite effective, but in this case Cummins went down at the uppercut.
Cummins kept his head-posture forward (being backed up against the fence and choosing to engage helps out this combo), and consequently eats a nice one one. As Cummins tries to stand up, he eats another right-uppercut, and then a left-hook until he's pounded out till the ref called it.
I would've liked to see the bout go slightly longer and see more of what Cummins may have under his arsenal. Unfortunately, a stoppage seemed inevitable in this case. Regardless of his performance against Cormier, I believe that Cummins is indeed talented, and can't wait to see what he has to offer when he goes through a full-camp next time.
As always, thank you for reading. To stay updated, you can contact Lawrence Kenshin on his social media accounts below.