The title doesn't suggest that Machida was out of control in his 205 bouts. Rather, it's saying that he was in "passive control" as opposed to "active and aggressive control". This difference matters.
Lyoto Machida has been elite for years — before the dog fight between Alexander Gustafsson and Jon Jones, Machida was the only man to best Jon Jones in a round. Machida has a 74 inch reach — in Light Heavyweight, the average was 76.2; Middleweight was 74.4 (if you don't think this matters much, please give Fightnomics a read).
As a smaller Light Heavyweight, Machida was often forced to fight closer to the octagon — many of his opponents had either equal or stronger base — this forced a style based on a strong outside and counter game with emphasis on footwork.
In full-contact combat sports, it's rare to consistently fight well when pushed back. You see it from several greats: e.g. Samaart Payakaroon, Muhammad Ali, and Anderson Silva — all of whom are elusive and able to fight on the outside without a high-guard. By nature (after lots of nurture), elite Shotokan Karatekas are comfortable with being passive and elusive. And in my opinion, Machida isn't solidified in this "GOAT" category mainly because he competed at 205.
Techniques When Lyoto Machida is Pressured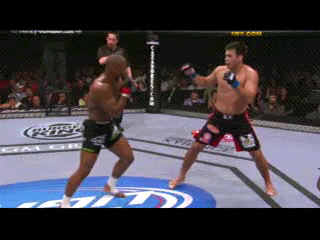 The Most Beautiful Left-Straight of Them All
Side-step into an inside-angle left-straight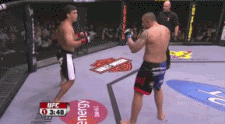 Passive Counter-Fighter
I've recently discussed that there's two types of counter-fighting: "Aggressive and Passive." Basically, the former is off pressuring the opponent, and the latter is off being pressured. Not many fighters can consistently do well with the latter — Machida is one that can. Generally, fighters resort to this strategy because they have a lesser base and get pushed back. Fighters like Machida use their speed advantage and their opponent's force going forward to counter.
It's a difficult tactic because of the amount of footwork required (one must refrain from being trapped near the cage). Machida did push forward and take center in his 205 bouts, but not in frequency and definitely not in the way he did against Mark Munoz.
Against Mark Munoz: Aggression, Center-Control, and Head-Kick Setup
If you go back and watch Machida's fight against Munoz, you'll see that Machida literally controlled the center every second of the fight. Controlling center methodologically (inching forward instead of rushing forward) means dictating the pace and exchanges.
If Munoz tries to rush forward (takedown or strikes), Machida would simply move back, side-step, and regain it quickly (also discussed in Faber vs. Barao).
A Masterful Example via Orono Wor Petchpun in Muay Thai
Effective Setup of High-Kick in Southpaw vs. Orthodox — Youtube Video
Controlling the center means lots more roundhouses from Machida — pushing the opponent back means the opponent has less chances to cut-off and react to the kick. This is especially true near the cage and in a Southpaw vs. Orthodox matchup.
Against Light Heavyweights, these type of strategies aren't nearly as viable for Machida. But in Middleweight, he's neither at a reach nor base disadvantage. Machida can now employ aggressive and passive counter game — and one such fighter is extremely dangerous. I reckon that of all middleweights, Machida is the most "in control" because he's probably the only one who can do both very effectively.
I'm truly excited to see whether Machida could replicate similar principles against Gegard Mousasi and his future opponents.
As always, thank you for reading. To stay updated, you can follow Lawrence Kenshin on his social media accounts below.