The bout between Mark "The Super Samoan" Hunt and Antonio "Big Foot" Silva was a great war. Heck, it might even be the greatest heavyweight war in the UFC. Without a doubt, it will go down in history as a legendary fight.
In this analysis, I'll breakdown some reasons why this bout was an instant classic.
Reaction:
First, let's look at the reaction from three of the most important individuals in the UFC.
Almost everyone who watched this fight shared a similar sentiment. When the three most influential figures in the sport share such a dramatic reaction, you can bet that it was one hell of a fight. In some ways, this fight is indescribable — one that requires exclamation marks, caps lock, and profanity.
Fight Metric and Statistics Agree:  
Not only was it a war, the consequence of the fight was just as rare as its excitement.
A Bout Statistically Guaranteed to be Exciting: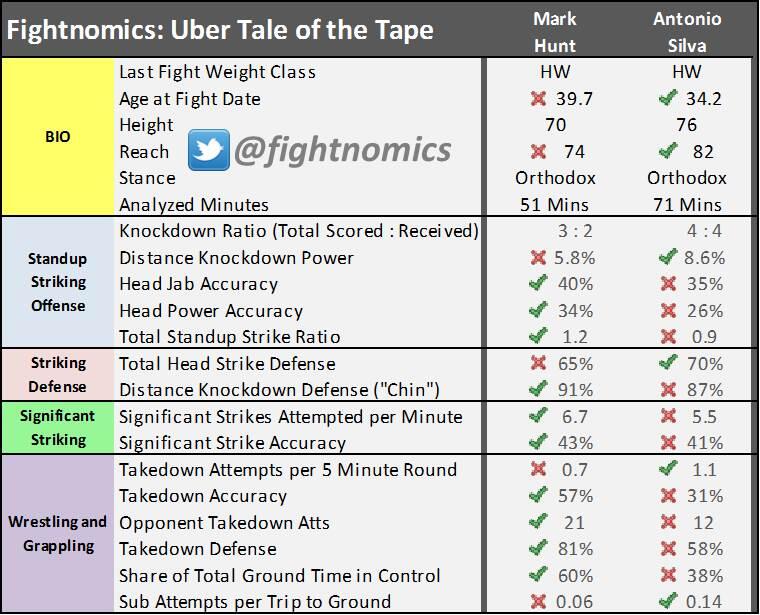 Relative to other individuals, these statistics tell us that Mark Hunt has a high % of takedown defence and that Antonio Silva has a low % of take down accuracy. Both individuals have more "power" and less "defence" than most of their peers.
Expectations and Unpredictability:
First impressions are important. In the past, the start of a bout would often show us what type of fight it's going to be. At first, this bout looked like it was going to be a very calculated fight — one where Silva would stay in the long range and Mark Hunt would be kept away. To many, it appeared cautious, slow, and uninvolving.
This first impression quickly lowered our expectations of the fight, and then minutes later the fight just turned into an all-out war. The war in itself was unpredictable, as was the way it occurred. Mark Hunt, the power house puncher and elite kickboxer, successfully grappled against an opponent that bested Fedor Emelianenko on the ground. Antonio Silva, the fighter that "needed" grappling to win the bout, successfully struck with the dangerous striker.
After the match, commentator and fighter Rashad Evans said, "Both these guys made it look like we didn't know what we were talking about when it came to the fight, neither of them did what we thought they were going to do."
Round By Round: 
Round 1:
We saw Mark Hunt have his chin tested, but we were also quickly reminded that he has an amazing chin.
FightMetric tells us that Silva landed 13 of his 20 significant strikes and 18 of his 25 strikes ; Hunt landed 6 of his 20 significant strikes and 13 of his 27 strikes.
Round 2:
In round 2 we saw a big spike in output: Silva landed 19 of his 40 significant strikes ; Hunt landed 13 of his 37 strikes. It's particularly interesting to note that FightMetric considered every strike thrown "significant" in this round.
Round 3:
Hunt landed 16 of his 22 significant strikes; Silva 10 of 17. However, Hunt would land knockdown and a takedown. Hunt landed 68 of his 77 total strikes, while Silva 12 of his 19.
Round 4:
Silva landed 32 of his 58 significant strikes and Hunt 17 of his 24. Silva landed 49 of his 82 total strikes ; Hunt 32 of his 42. Hunt would also land a takedown in this round, but also landed on the bottom off an attempt.
Round 5:
We see a mega-spike in Hunt's output, landing 53 of his 72 significant strikes ; Silva landed 23 of  51. Hunt landed 60 of his 79 total strikes and Silva 39 of his 69.
 Total: 
Hunt landed 103 of his 175 significant strikes; Silva 97 of his 186. Hunt landed 184 of 262 total strikes, Silva 137 of 235. Hunt scored 2 takedowns off 5 attempts, Silva scored 0 of 4. Hunt passed once and Silva passed 3 times.
Offical Scorecard: 
Judge Barry Folley and Kon Papaioannou gave it a draw — 47-47, but going into round 5 it was 3-1 Silva. In round five these two judges gave Hunt a 10-8 round.
Judge Charlie Keech 2 3 and 5 to Hunt by a 10-9, and rounds 1 and 4 to Silva by 10-9.
Result: Majority Draw.
Conclusion: 
This fight had all the variables to be a war. But what we didn't expect was that both men would survive a high-output onslaught from each other and end the bout in a draw — a 0.6% occurrence. As highlighted in this article and by all accounts, it was a bout that was truly rare in many great ways.
Our binary simplification approaching the bout made it an exciting, unpredictable fight. Many thought that Hunt would need to strike and anti-grapple to win. Many thought that Silva would need to grapple to win. In this sense, we had no idea that the slugfest was coming, especially off the first few minutes of the bout.
Fights like this ignite passion from current fans and create new ones. And since it was broadcast on free TV, it really could be the new Forrest Griffin vs. Stephan Bonnar. I truly believe that it's a legendary heavyweight war like this that'll make the sport into one of the biggest around the world.
As always, thank you for reading and I hope you enjoyed the analysis. To stay updated on my articles, simply scroll down below to add me on Facebook or Twitter.