Mixed martial arts is the most cohesive combat sport in the world today because of the enormous variety of techniques a fighter can use against his opponent: elbow strikes, kicks, punches, knees, choke holds, arm locks, leg locks, takedowns, etc…  One of the most jaw-dropping spectacles an MMA onlooker can witness though is the event in which a fighter lifts his opponent up over his head and sends him crashing down into the mat with all of the force gravity can grant him.  It's no wonder every time a slam occurs in a MMA fight, it's instantly followed by a foray of loud cheers from the audience.  Here are 4 of the best slams in MMA history.
4) Matt Hughes vs. Carlos Newton
Sportsillustrated.cnn.com
Newton had defeated Hughes's teammate, Pat Miletich, to capture the UFC welterweight championship 6 months earlier.  This was Newton's fist title defense and Hughes's UFC debut.  In the second round, the defending champion locked a triangle choke on the UFC rookie and was squeezing for the finish.  Hughes knew he was in trouble.  The triangle was locked in tight and there was no escape for him.  So, realizing that there was no technical move he could pull out of a hat to free himself from Newton's triangle, Hughes resorted to his last card: brute strength.  Hughes lifted the champion off of the floor, carried him over to the corner of the octagon, and slammed the daylights out of him, literally.  Hughes won by KO.  He admitted after the fight that he was almost choked out by Newton and that he slammed him out of desperation.  Newton and Hughes would face off for a second and final time some 8 months later where Hughes would defeat Newton by  TKO in the fourth round.  This was the beginning of a very successful career for Hughes in the UFC, as he would eventually be inducted into the UFC hall of fame.
3) Tito Ortiz vs. Evan Tanner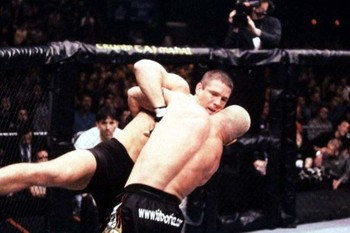 Bleacherreport.com
Once upon a time long ago, in a land very close, Tito Ortiz was one of the fiercest fighters in the world.  Tito had already captured the UFC light-heavyweight belt by defeating vicious muay thai-striker Wanderlei Silva.  That historic bout was followed by a quick 1st round win over challenger Yuki Kondo.  His third title defense was against the late Evan Tanner.  Tanner was much older and more experienced than Ortiz, but his experience would not prove sufficient enough to match the power and aggressiveness of the younger, stronger champion.  Ortiz quickly went to work with upper cuts and knees from the muay-thai clinch before lifting Tanner in the air with a body lock and slamming him out of consciousness.  Big John McCarthy stepped in to save Tanner from further punishment.  Ortiz's success didn't end with his impressive victory over Tanner.  He went on to rule the division for about another year and a half, racking up 3 more title defenses, before being humiliated by Randy Couture in what would be one of the most one-sided fights in UFC history.  Even still, Ortiz held the record for the most title defenses in UFC light-heavyweight history, until recently, when Jon Jones surpassed him by defeating Alexander Gustafsson in September of 2013.  Ortiz is currently a member of the UFC hall of fame.
2) Fedor Emlianenko vs. Kevin Randlman
Jumpingpolarbear.com
Even though UFC president Dana White doesn't want to admit it, Fedor Emelianenko was without a doubt the greatest MMA heavyweight fighter of all time.  Fedor defeated Brazilian legend Antonio Rodrigo Nogueira for the Pride heavyweight crown in 2003, and went on to dominate the heavyweight division for almost another 4 years until the organization was bought out by the UFC.  During his reign as the Pride heavyweight king, he faced off against former UFC champion and two-time NCAA collegiate wrestling champion, Kevin Randleman.  A mere 2 months earlier, Emelianenko had defeated Randleman's teammate, Mark Coleman.  Emelianenko was on a 14 fight winning streak and seemed to have no problems dealing with anyone Pride through his way.  Randleman wanted to avenge his teammate, and to his credit, he did get awfully close to doing just that… so it seemed.  The beginning of the fight was all Randleman, the two-time NCAA champ shot in for a double leg and lifted the Russian off of the ground slamming him on to the mat with ease.  That's not even the part that I'm putting him on this list for.  Randlemen advanced to half guard, but Emelianenko managed to get to his feet.  Next, Randleman shocked the thousands of spectators looking on and suplexed Emelianenko on to his head so violently, that the entire stadium gasped and many thought Emelianenko's neck broke.  It appeared that Randleman was manhandling the heavyweight champ, but out of nowhere, Fedor swept Randleman from the north-south position and immediately submitted him with a Kimura.  The fight ended as abruptly as it had began.
1) Quinton Jackson vs. Ricardo Arona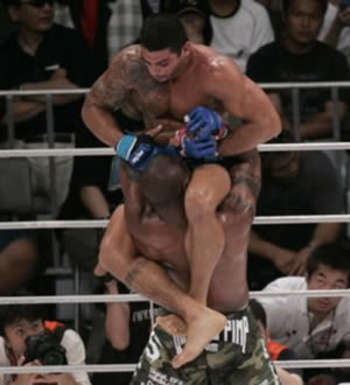 Bleacherreport.com
Well, they don't call him the "King of Slam" for nothing.  Going into this fight, Quinton "Rampage" Jackson had recently suffered the most brutal knockout loss of his career at the hands of Pride middleweight champion Wanderlei Silva.  Jackson was eager to earn a shot at revenge against "The Axe Murderer."  He rebounded with a TKO victory over Japanese fighter Ikuhisa Minowa, and now standing in the way of his vengeance was Brazilian Top-Team jiu-jitsu standout, Ricardo Arona.  During most of the fight, Jackson showcased excellent boxing skills and takedown defense by outpunching the Brazilian and utilizing his sprawl along with effective use of under hooks to avoid being take down by Arona's double leg.  Arona eventually got Jackson to the ground by pulling guard and landed some devastating kicks from the bottom.  Jackson appeared to be knocked out, or at least dazed by the kicks, but the referee didn't stop the fight.  Working from his guard, Arona slapped on a triangle choke onto Jackson, and then it happened.  Jackson shot his hips in like an Olympic powerlifter, elevated Arona more than 6 feet into the air, and slammed him on his back; Arona was instantly knocked out.  Jackson would later go on to lose to Wanderlei Silva again by an even more brutal knockout than the first time they fought.  However, Rampage would ultimately get his revenge when the two would later meet in the Ultimate Fighting Championship.